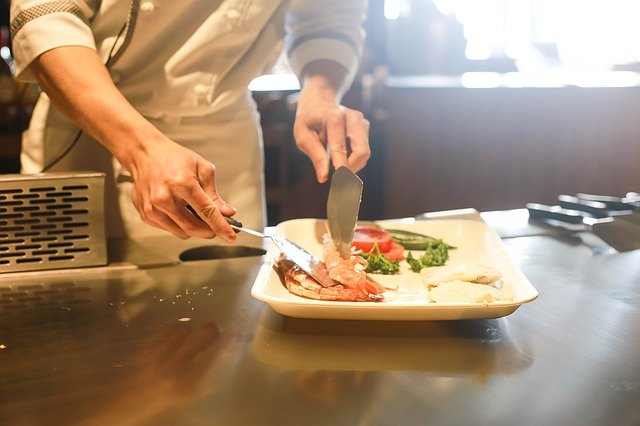 [vc_row][vc_column][vc_column_text]Chef Karen, my sister-in-law is a really excellent chef. She has gifted us with these recipes that she made up while on her last detox program. You can learn more about Karen's Crafty Kitchen Adventures
here
. She will soon be adding adult classes too!
Ratatouille –
Prep veggies. Everything in big, larger than bite-size pieces. Peeled sliced tomato (I used canned whole, then sliced them), thick slices/chunks of eggplant (I used Chinese eggplant), yellow squash, red bell pepper, sliced yellow onion. Toss with olive oil (generous amount), salt & pepper, and dried oregano. Roast @ 450*, until golden brown, flipping once. Gently toss with additional olive oil, chopped parsley, and salt & pepper to taste. Serve warm or cold. A little balsamic drizzled on top adds a punch. Serve with Brown Rice.
Grilled or Broiled Portobello, served with Basil "Pesto", lightly sautéed Cherry Tomatoes, Herbed Brown Rice, and Fresh Salad.
Portobello– season portobello with fresh garlic, s&p, olive oil. Broil on grill rack, both sides, until cooked or a dark golden brown.
Basil "pesto" – puree fresh basil, fresh garlic, olive oil, s&p, splash of water if needed.
Brown Rice with fresh chopped herbs (parsley, cilantro), lemon zest, s&p. A bit of Coconut Oil adds a nice depth to the flavor.
Lentil & Brown Rice Patties, served with roasted Sweet Potato hash (or mash), sautéed Veggies.
Lentil patties- 2 cups Lentils & 1 cup Br.Rice smashed together, with sautéed small dice Garlic, Onion, Mushroom, and 2Tblsp chopped fresh Cilantro, 1/4 crumbled rice cake, s&p. Form small thick patties. Sauté in olive or coconut oil until crispy on both sides.
Roasted Acorn Squash with Chimichurri sauce.
Acorn Squash– keep peel on, remove seeds, slice in wedges, coat with olive oil, season with s&p. Roast on parchment flat side down, @ 450*, flipping once. Until both are dark golden brown. (note: the peel is edible)
Chimichurri sauce– 1 bu. chopped Parsley. 8 cloves minced Garlic. 1 Tblsp diced Red Onion. 1 tsp dried Oregano. 1 tsp Black Pepper. 1/2 tsp Salt. 1/4 cup Red Wine Vinegar. Juice of 1 Lemon wedge. 3/4 cup Olive Oil. Mix together. Drizzle on everything. yum!
Enchilada Sauce (Optional: also serve with Guacamole, for an extra flavor boost)
Saute 3oz tomato paste, 1/4 c. New Mexico chile powder, 1 tsp Cumin, 1 tsp. dried Oregano in 3 Tblsp veg oil. Add 2 cup veg stock, and 1/2 tsp salt if needed. Cook for 15min, smoothing out any lumps.
Smoky Roasted Cauliflower Dip – 1 whole head Cauliflower, pieced into florets, tossed with 4 cloves crushed Garlic, 3 Tblsp Olive Oil, and s&p to taste. Roasted @ 475* on parchment, flipping once until golden brown. Purée, adding Smoked Paprika, Cumin, NM Red Chile, and a little water if needed. Adjust seasoning to taste. The roasted cauliflower is also super delicious without the pureeing. (Good substitute for Mashed Potatoes if pureed w/o the additional spices!)
Brown Rice Cake w/ sliced Avocado, Salt & Pepper, drizzle of Hot Sauce.
Surprisingly Delicious Lentil Soup served with fresh Salad.
Lentil Soup– 2 cloves Garlic, 1 diced Onion, fresh Herbs (1- 6" sprig Rosemary, 4 sprigs Thyme, 1 Tbsp fresh Oregano, 1 Bay Leaf), 3-4 diced Carrots, 3 cups Lentils, 6-8 cups Veg Stock or ½ tsp Marmite+H2O. Saute garlic, onion and carrots,  until onion is translucent. Add Herbs until fragrant. Add rest of ingredients and simmer until flavors combine, approx. 10min. Season with Salt & Pepper. (Even the kids had 2nd & 3rd helpings!)
Salad– Power greens, Carrot ribbons, Green Apple sticks, crumbled Rice Cake, S&P, Olive Oil & Balsamic vinegar.
Friday Night Mocktail!
Sparkling water, fresh Mint, fresh Lime. Put a little crushed ice in a glass, add a few mint leaves, stir and crush a bit using a muddler or even just a spoon, until mint is broken up and fragrant. Add a squeeze of lime, and top with soda water. Special!
Veggie Sushi and Roasted Brussel Sprouts
Sushi– Brown Rice (short grain) prepared only with Rice Wine Vinegar, no sugar. Nori Seaweed sheets. Various vegetables sliced into thin sticks (carrots, cucumber, radish,etc.), or par-cooked/lightly steamed (asparagus, etc.), green onion stalks, avocado slices, etc. Prepare a little bowl of seasoning mixture (e.g., salt, pepper, cayenne, paprika, or 5-spice, etc.). Once vegetables are placed on the rice and nori, be sure to season before rolling. (naturally colored wasabi is difficult to find, but sometimes possible)
Brussel Sprouts– Rinse and cut Brussel Sprouts in half, removing wilted outer leaf (and checking for bugs). Toss the sprouts with crushed garlic, olive oil and a bit of salt & pepper. Roast on parchment lined sheet pan at 450', tossing once,  until dark golden brown.
Sweet Potato & Lentil Lettuce Wraps
Wraps– Make a hash, by sauteeing the following, adding in order, but only after each item is fully cooked; Sweet Potatoes, Onion, choice of veggie (e.g., Red Pepper, Calabaza Squash, Mushrooms, etc.), and cooked Lentils. Season with Salt & Pepper.
Seasoning options: Asian/ 5-Spice. Moroccan/ 1 tsp.Cumin,1sp.Coriander, ½ tsp.Cinnamon, fresh Parsley. Southwest/Cumin, Chile powder, Ancho. Serve as filling for whole Romaine lettuce leaves. Topping options: fresh herbs, green onion, chives, fresh jalapeno, rice wine vinegar, hot sauce.[/vc_column_text][/vc_column][/vc_row]