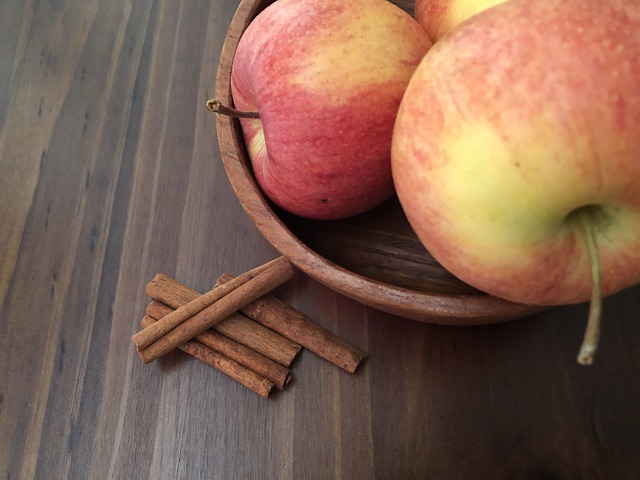 [vc_row][vc_column][vc_column_text]Cinnamon Apple & Pear Amaranth Porridge is a perfect fall flavored, hearty and nutrient dense porridge to make in the cooler months. Remember to soak your amaranth overnight if possible.
Prep time:  
Cook time:  
Total time:  
Serves: 1
A healthier version of grits using amaranth and sweet stewed apples with pears and cinnamon.
INGREDIENTS
¼ cup amaranth
½ cup unsweetened almond milk (or milk of choice)
1 cup filtered water (for cooking, use as much or as little to achieve desired thickness of porridge)
¼ cup Fuji apple, diced
¼ cup pear, diced
small handful of pecans (or other tree nut -no peanuts)
1 tablespoon ground cinnamon
dash of freshly ground nutmeg
INSTRUCTIONS
Cook amaranth by bringing water to a boil, add amaranth and bring back to a boil, reduce to simmer and cover with a lid and cook for 20 minutes or until the amaranth has come together and resembles porridge. You may add additional water throughout the process, amaranth will continue to "soak" it up.
In a separate saucepan, combine sliced apples / pears and pecans with cinnamon and cook until softened (about 10-15 minutes).
Stir vigorously with a bit of coconut/almond/rice milk for creaminess. Add the stewed Cinnamon apples, pears & pecans into the cooked Amaranth and serve.
Enjoy!
Nutrition Information
Serving size: 1
Calories: 280
Fat: 5
Carbohydrates: 53 (net 43)
Sugar: 12
Fiber: 10
Protein: 8
Toppings | *optional
Almond butter
Walnuts
Pumpkin seeds
Raw apples diced
Shredded coconut, etc.
[/vc_column_text][/vc_column][/vc_row]