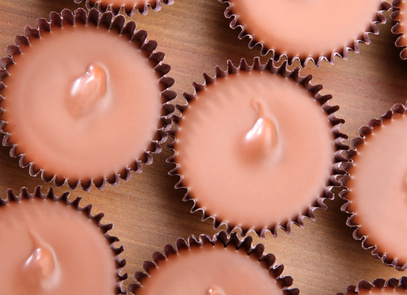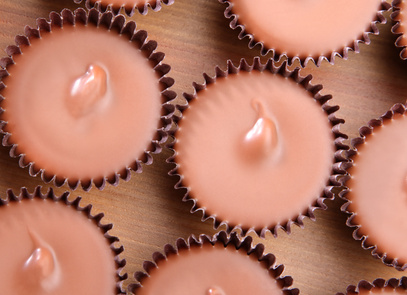 This is a simple version of making peanut butter cups that you'll find very easy. These minis combine the nut butter with the chocolate for a quick stir-and-set treat.
Yield: 16 servings (mini cups)
Active Time: 5 minutes
Total Time: 25 minutes
Preferences: Gluten Free, Dairy Free, Vegan, Paleo
Ingredients
• 6 Tbsp. unsweetened organic cocoa powder
• 3 Tbsp. virgin coconut oil
• 3 Tbsp. Creamy Organic Peanut Butter (or your nut butter of choice)
• 1/2 tsp. vanilla extract (optional)
• 4 tsp. coconut sugar (or organic maple syrup)
• 1 pinch finely ground Celtic Sea Salt
• 8-10 drops NuNaturals Stevia (to taste)
Tools
• Heavy-bottom saucepan
• Candy molds or silicone muffins cups or paper mini muffin liners in a mini muffin pan
Preparation
1. In a medium saucepan, combine cocoa powder, coconut oil, and nut butter over very low heat. Stir occasionally until mixture is completely liquefied.
2. Remove from heat and stir in salt, vanilla (if using) and coconut sugar. Add stevia to taste.
3. Pour mixture into silicone candy molds, silicone muffins cups, or paper mini muffin liners in a mini muffin pan.
4. Transfer to freezer to set (about 15 minutes).
5. Pop the peanut butter cups out of silicone molds
6. Store them in airtight container in freezer or refrigerator.
Nutrition Information Per Serving
47 calories, 4.4 g total fat, 2.6 g saturated fat, 0 g trans fat, 0.24 g monounsaturated fats, 0.06 g polyunsaturated fats, 0 mg cholesterol, 8.7 mg sodium, 2.1 g carbohydrate, 1 g fiber, 0.56 g sugars, 1.1 g protein
And for more than 50 additional makeovers of your favorite treats… plus valuable education on how to live a low-glycemic lifestyle, without giving up your favorite sweets, try out Carefree Candies – Your Guide to Healthy Homemade Indulgences.